BRASS MONKEY
A night in our bar is full of fiery cocktails and an exotic atmosphere that allows you to forget the hustle and bustle of everyday life for a while.
COCKTAIL MENU
COCKTAILBAR IN COPENHAGEN
Drop by the Brass Monkey on Enghavevej 31, and let us take you on an tiki journey. A night in our bar is a little different to your typical bar! The Brass Monkey is the Danish response to the tiki bar, full of blazing cocktails, exotic tiki-inspired décor, and laid-back vibes. A night at Brass Monkey will allow you to forget all about the everyday stresses of the working week. Even though we are centrally located on Vesterbro, it will feel like you are on a white sandy beach along the South Pacific!
Brass Monkey opened its doors in 2009, and has since been on a long and exciting journey, which includes, among other things, the Politiken famous "Ibyen prize" for Copenhagen's best bar in 2015.
The finest rum
At Brass Monkey we are proud to offer one of Denmark's largest assortments of rum, consisting of selected spirits from all over the world. Come by and taste some of the finest rum the world has to offer, or relax with one of our popular cocktails. We have something for everyone, and even if rum is not for you, we also have a selection of other delicious and refreshing drinks on the menu.
If you are in for a party and some fun, we regularly hold small Limbo competitions. How low can you go?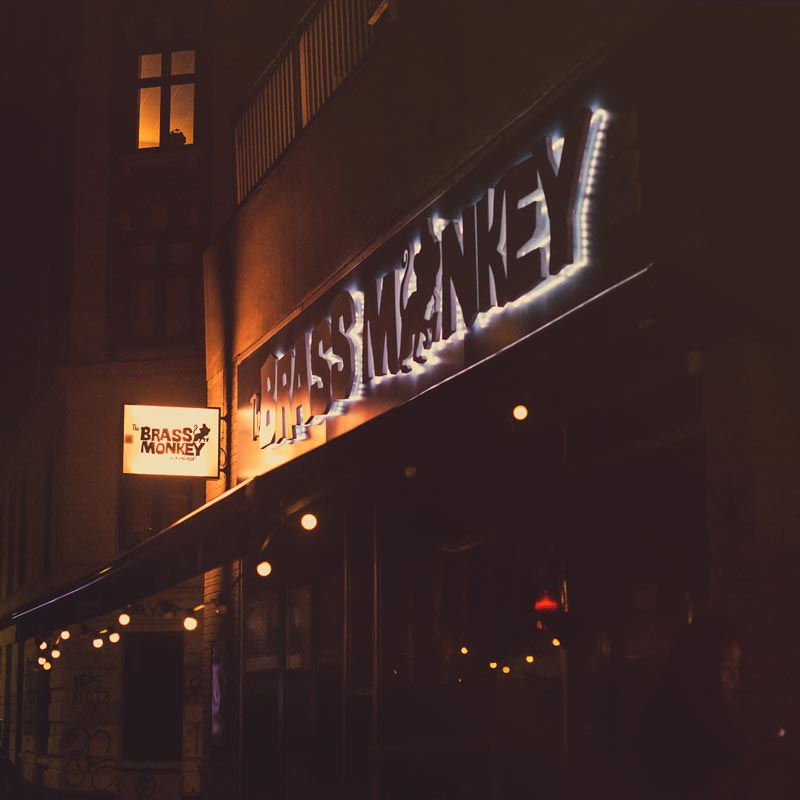 WHY CALLED BRASS MONKEY?
Like everything else at Brass Monkey, there is a long story behind the name. The name comes from the old sailing term "cold enough to freeze the balls off a brass monkey".
Back in the age of pirates, ships were kitted with cannons and iron cannonballs. So that the cannonballs would not roll around on the ship deck a brass plate was used to hold them in place. This brass plate was known as the "brass monkey", and had small impressions which meant that the balls would not roll. Being made of brass, it also meant it would not rust with the iron cannon balls.
A Saying
However, there was one disadvantage. On particularly cold days the brass contracted faster than iron, causing the pyramid of cannonballs to collapse. Those on deck would then proclaim, it is "cold enough to freeze the balls off a brass monkey", and so the phrase was born.
The phrase lived on well past the cannon and the cannonball, and has gone on to inspire many names, ranging from sour cocktails to a Beastie Boy's number. We like to think it is a fitting name for a tiki bar in cold Denmark. In a way the Danes are just like those cannonballs – The cold does not stop the party, but encourages it!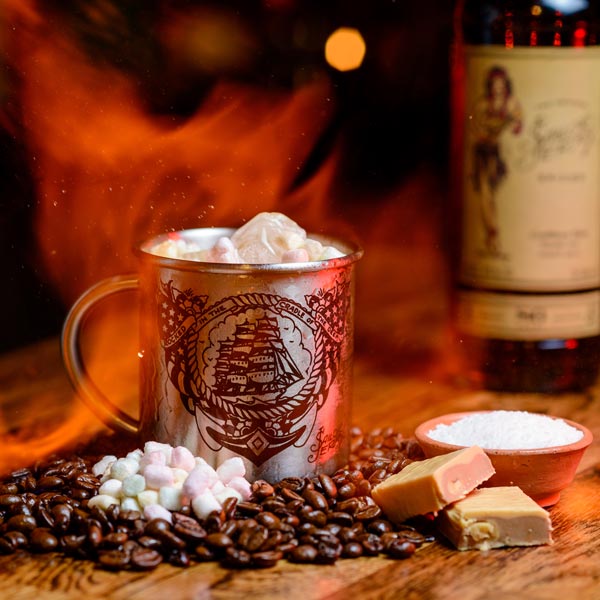 SIGN UP FOR OUR NEWSLETTER
Sign up for our newsletter and get spoiled with lots of inspiration, competitions, events and news.