DROP BY OUR COCTAILBAR ON VESTERBRO
At Enghavevej 31, we are here to provide you with an unforgettable tiki experience. Come take a seat and witness our infamous fire cocktails, authentic tiki atmosphere and laid back vibe. After a night at the Brass Monkey, you'll be dreaming of white sandy beaches along the south Pacific.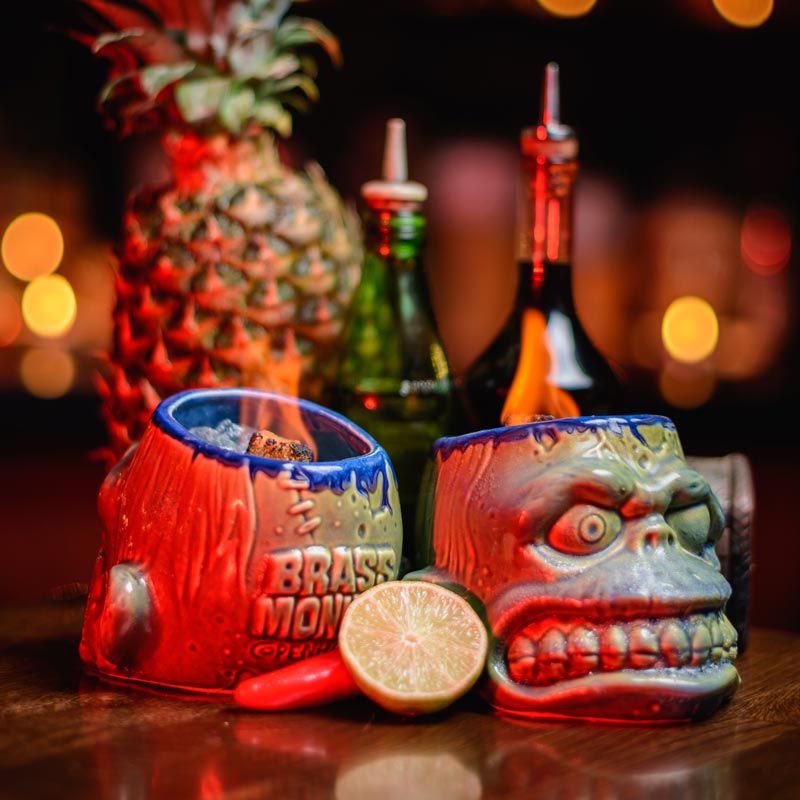 Groups
Kickstart your evening at Brass Monkey. We set the perfect atmosphere so you and your group can get an intimate start to your party. We offer fantastic drinks packages and delicious food at favorable prices.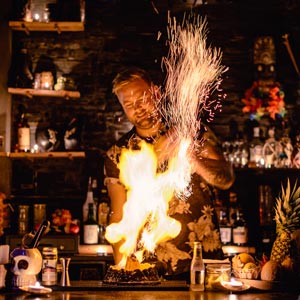 Event for businesses
Kick it up a notch and host your next Friday Bar at the Brass monkey. The staff will make sure your team will have an unforgettable experience. See more of what we have to offer for companies and businesses.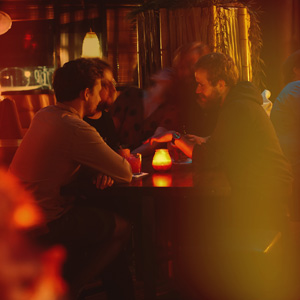 BOOK TABLE
Did you know that you can book a table for you and your friends for FREE? Just send us a message and we will find the best table where you can enjoy your delicious tiki cocktails as a group.
COCKTAILS
At Brass Monkey, we take pride in creating fresh, exotic cocktails with high-quality ingredients. With an extra kick and a little punch, we offer something different to your normal cocktail bar. Whether you're into a Zombie cocktail with Fire, the city's best Pina Colada, or a classic Mojito, we have something for you.
TIKI-BAR
At Brass Monkey you are invited to experience the Danish interpretation of a Tiki bar.
Rum, hula and an exotic atmosphere are our mantra. Focusing on quality spirits (especially rum) you can enjoy the classics or try some of our own popular creations. We promise we have something for everyone.
At the Brass Monkey bar we have one goal – to create a little piece of tropical paradise in the centre of Copenhagen. Come relax under our starry sky, become enchanted by the tropical décor, enjoy the light breeze in your hair, the groovy rhythms, hula Lei's and, of course, the delicious tiki cocktails.
COCKTAIL COURSE & RUM TASTING
We now offer cocktail courses and rum tastings for companies, sports teams or private companies. On our cocktail course, you will get the opportunity to learn how to make your favourite tiki cocktails, some tricks behind the bar, as well as some history behind tiki and what makes tiki bars like the Brass Monkey so special.
At our rum tasting you will be introduced to some of the leading names and flavours in the world of rum. Read more to see all our options and different packages.
THE MUSIC
At Brass Monkey, we are fortunate to have a super team of regular DJs who create an atmosphere of holiday and cosiness with delicious rhythms in our tropical universe.
Our music profile covers a wide range, including everything from soul, funk and disco, to Latin, reggae and the old known classics.
SIGN UP FOR OUR NEWSLETTER
Sign up for our newsletter and get spoiled with lots of inspiration, competitions, events and news.